Status Page – d19.instatus.com
I am pleased to announce that I am offering a publicly available status page to offer better alerting to my clients for any possible service outages and upcoming maintenance windows, with an eye to transparency. You can visit the status page here: https://d19.instatus.com
The status page is hosted with an external service called InStatus (subject to change in the future), as it doesn't make sense to host it myself. While I'd love to for just the "geeky" experience, it would be pointless because if my servers go down (particularly the one hosting the status page) then it wouldn't help during an outage and would be too late to send any updates.
While you're on the status page, you can subscribe to updates to any services along with scheduled maintenance windows. I strongly encourage you to subscribe so you can receive all the relevant information you'll need that impacts the services you are paying for. The system will send you an email update when it detects an outage and when it's back online again for any services. You can subscribe to all services or select the components that matter most to you such as the Web Server and Email Server components, thus minimizing the alerts you receive about components you may not care about. You can subscribe directly here: https://d19.instatus.com/subscribe/email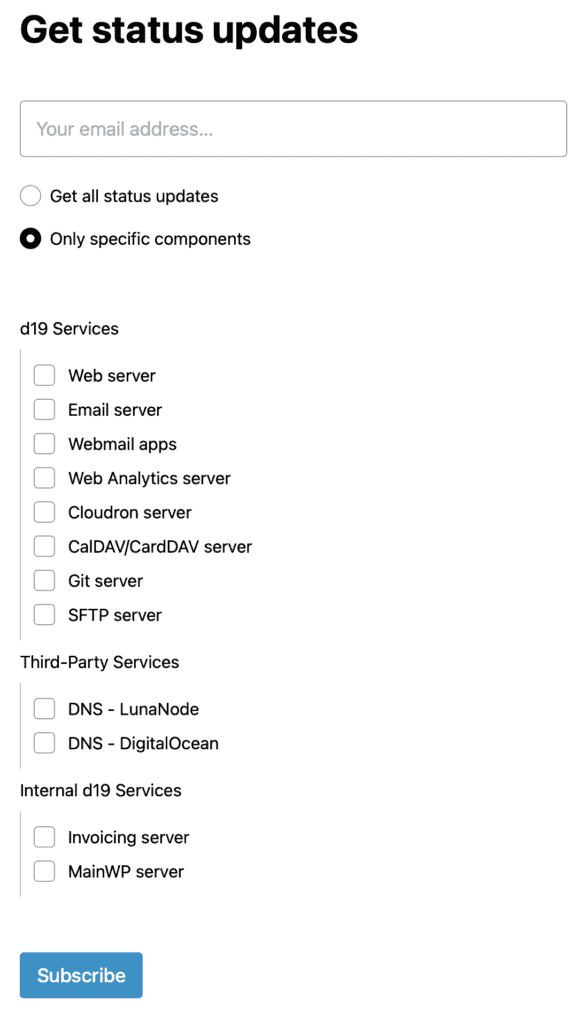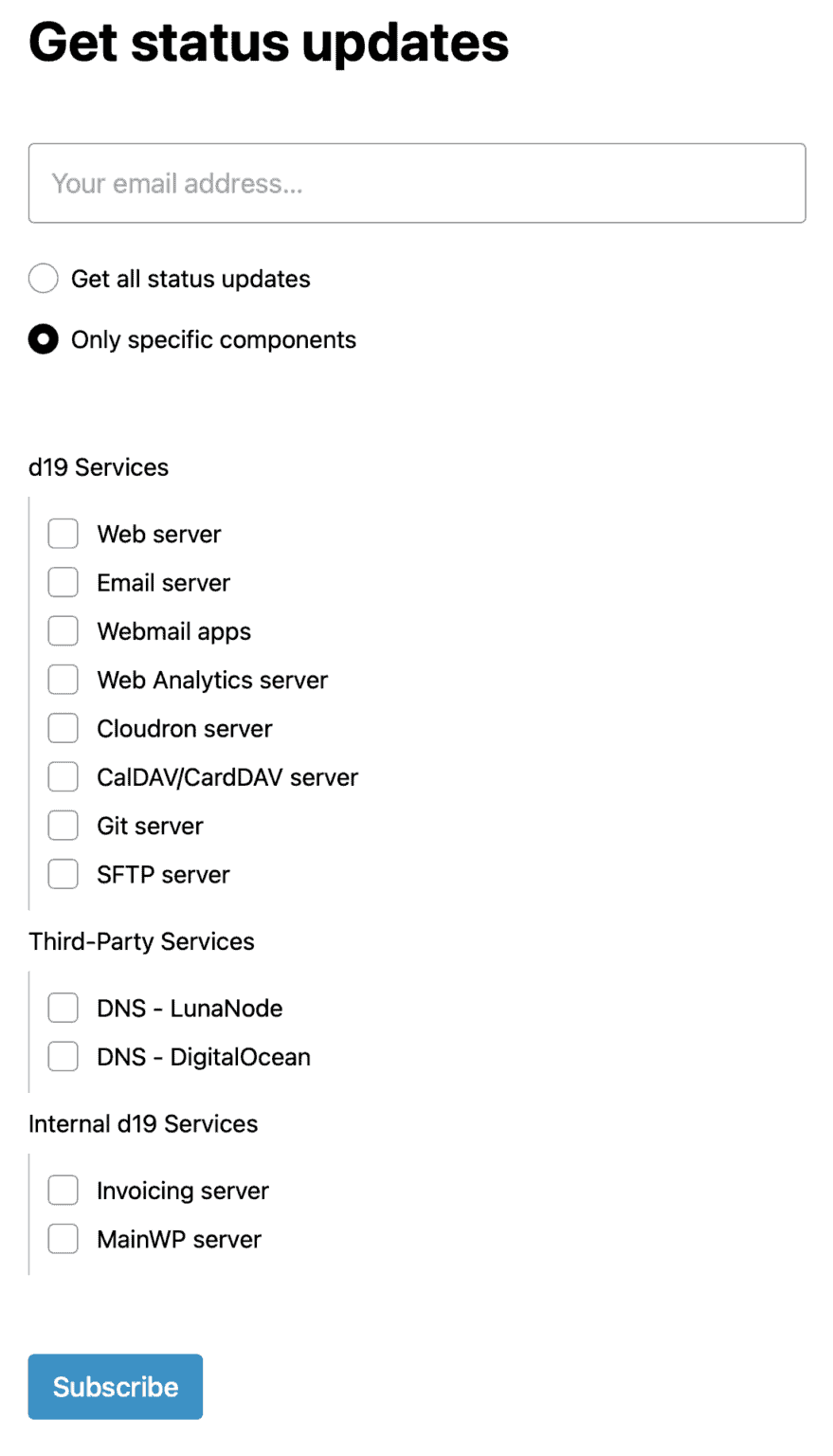 If you're not going to subscribe, then I would encourage you to bookmark it so you can reference it in the future if you experience any issues. Of course, no matter what the status page shows, if you require any assistance you can always reach me by phone or email.
Enhanced Monitoring
In order to offer a useful and detailed status page, I had to greatly enhance my monitoring capabilities (which is why it took me a while this year to get this going for everyone). My monitoring system now monitors practically every service I offer, including both public services and internal systems. Monitoring includes the web servers, email servers, Cloudron system, SFTP servers, web analytics servers, and much more. It even includes third-party services that I am dependent on in some way or another, such as authoritative DNS providers that host your domain and subdomain records. The purpose of the enhanced monitoring is not only to allow the status page to receive updates to notify visitors and subscribers, but to alert me as quickly as possible (within minutes) of any issues / outages so that I can jump on it as soon as possible to resolve it ideally before anyone even notices or suffers from the issue.
Maintenance Windows (future/scheduled)
One thing I was never great at unless it was critical / high-impact was communicating maintenance windows to my clients before they were to happen. This all changes now with use of the status page as I can now create maintenance windows and select the components affected by the maintenance, which will then alert you if you had previously subscribed for updates. If the maintenance is for only a certain component that you didn't subscribe to earlier, then you won't receive any unnecessary alerts for those (another reason I encourage subscribing to the components that are of important to you rather than all components). If there is anything absolutely critical that I can't rely on just those who have subscribed to the status page, then I will email everyone as needed.
Summary
Many great improvements have now arrived! The changes allow for better system management not only by me but yourselves too, in an effort to improve transparency and communications even more.
Please allow for some initial growing pains with the status page as I anticipate there could be rare times where the monitors see downtime when it's actually up and operational, and vice-versa. You can always email me if you have any experiences where you think a service is down even though it's showing 'operational' on the status page so I can look into it right away for any service issues and status page discrepancies.
As always, if there are any questions or concerns, please reach out to discuss.